We will show you how true, authentic, intact Croatian nature looks like. High peaks of mountains, green hills, deep waters, sparkling waterfalls, sound of silence…or sounds of nature! Diversity of Croatian nature will simply leave you breathless.

On this tour you will discover the most beautiful National parks, mountain villages, exceptional home-made food, local customs and tradition.

You will feel true nature in every sense of the way…

Duration: 4 days / 3 nights
Day 1 – arrival to ZAGREB

On your first day of this great tour, you will meet Zagreb, capital of Croatia and its biggest city. We will wait for you at the airport and transfer you to the hotel, located in the city center, where you will check in. After check in we will take you for a walk through the city center, so you can discover your first experience with this exceptional old city; Zagreb – two cities in one city; two different faces in one face. Majestic Upper town, which is intimate, cozy and distinctly medieval in ambience and the Lower town, full of huge squares, wide boulevards and Secession architecture. You will see central square of Josip Jelacic, Zagreb Cathedral, the most beautiful market at the open – Dolac, Stone Gate and many other attractions. We'll take a ride with the shortest funicular in the world (only 66 meters) to the Upper town and enjoy amazing view on Zagreb roof tops. We'll take you through the beautiful Lenuzzi horseshoe or so called Green horseshoe, a complex of 7 parks and squares with fountains, in the center of the town. In the evening, we are inviting you to be our guests at a Welcome dinner in one of Zagreb restaurants where you will taste local delicacies.

Overnight in Zagreb, 4* or 5* hotel in the city center

Day 2 – ZAGREB – RISNJAK NATIONAL PARK – FUŽINE

In the morning, after breakfast, our wild nature adventure begins. We are heading towards region Gorski Kotar, which is the greenest and most picturesque part of Croatia, surrounded by hills and mountains. We will take you through a landscape of forests, hills, meadows, mountain streams and rivers. The atmosphere here is very peaceful, friendly and romantic, without car traffic and polluted air. Just take a deep breath and enjoy the freshness.
First we will visit Risnjak National Park, great mountain massif which was named after the animal lynx, in Croatian "ris", the biggest European wild cat, its most popular inhabitant. This National park is one of the most important natural phenomena because of its rich animal and plant life. The specificity of this area, and also why it was declared a national park was a relatively small area with many geological and geomorphologic, vegetation, climate and pedagogical phenomena. And the Adriatic Sea is only about 15 kilometers away, so the climate is perfect for everyone, mix of Mediterranean and mountain air, perfect for everyone!

We will discover magnificent Natural Reserve – Zeleni Vir (Green Vortex) and popular Devil's pass – a canyon given a frightening name due to its magnificent wilderness, is one of the most beautiful canyons in Croatia. The brook Jasle flows through the narrow pass, surrounded by steep cliffs up to 100 m high placed tightly together.

After such exciting day, we are coming to Fužine, little and romantic town, surrounded by picturesque mountains, by the silence of centenary evergreen woods and by the beauty of its lake Bajer.

Overnight in Fužine

Day 3 – FUŽINE – OGULIN – GACKA VALLEY – PLITVICE LAKES

In the morning we are continuing our journey exploring beauties of hinterland of Croatia. Our first destination is town Ogulin, the homeland of fairytales and legends, laying on a Dobra river below the majestic Klek mountain. The magical natural heritage of the Ogulin region, its turbulent historical events and interesting local happenings and its people, have always ignited the imagination of the inhabitants of Ogulin's surroundings. Folk traditions have also enriched every corner of our region and present us with the exceptional intangible heritage of our ancestors. One of the legends noted by Valvasor comes from the 17th century – the legend about the witches of Klek. According to this legend witches, fairies, and elves from all around the world gather in Klek during stormy nights. As they dance there their cries and screams can be heard even as far as Ogulin.

After witnessing Ogulin's turbulent history and listening many interesting stories, we are going to see one of the most beautiful idyllic valleys in this area – stunning Gacka valley, situated in the region of Lika. The valley is dominated by the river Gacka which springs at one end of the valley and sinks underground on the opposite end. Gacka is the third longest sinking river in the world.

The springs resembling little lakes are very picturesque. To be seen here are many old watermills – "malenice", many of which reconstructed and restored in a traditional style. There are also saw mills, fulling mills and cloth washing troughs. We will taste here some of the best local specialties – fresh caught trout, young lamb and Lika's cheese.

We are ending this magnificent day by coming to the Plitvice Lakes National Park, the most beautiful one in Croatia.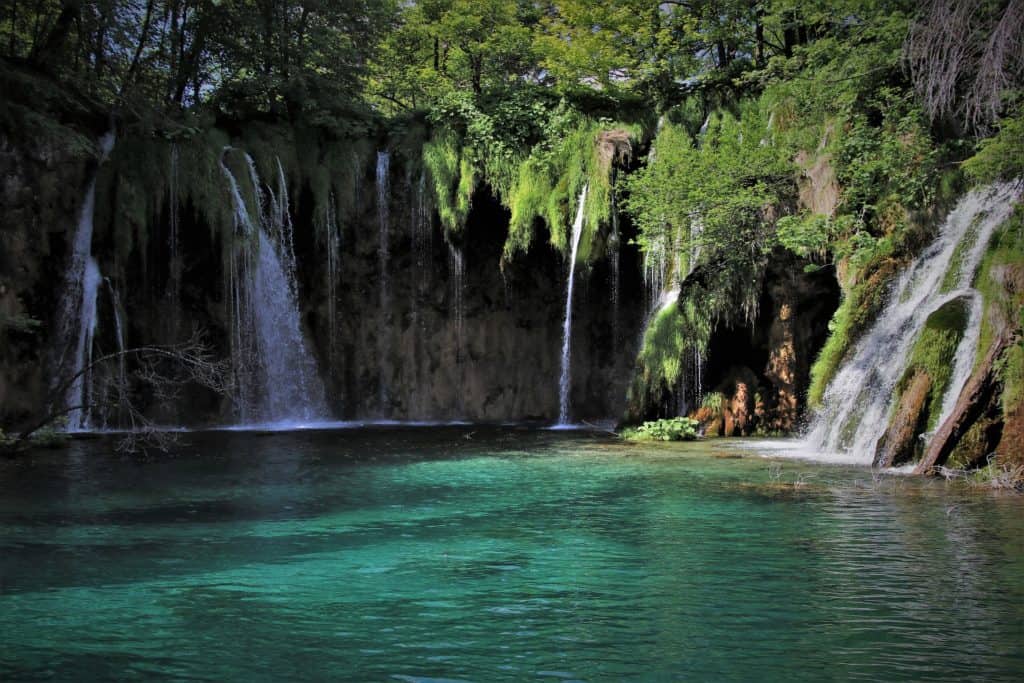 We will spend the night in a hotel on Plitvice Lakes

Day 4 – PLITVICE LAKES – RASTOKE – ZAGREB

Plitvice Lakes are a world pearl of incalculable value. Its specific beauty is a sanctuary for nature lovers and an inspiration for artists, whereas the uniqueness and richness of its nature is an occupation of scientists.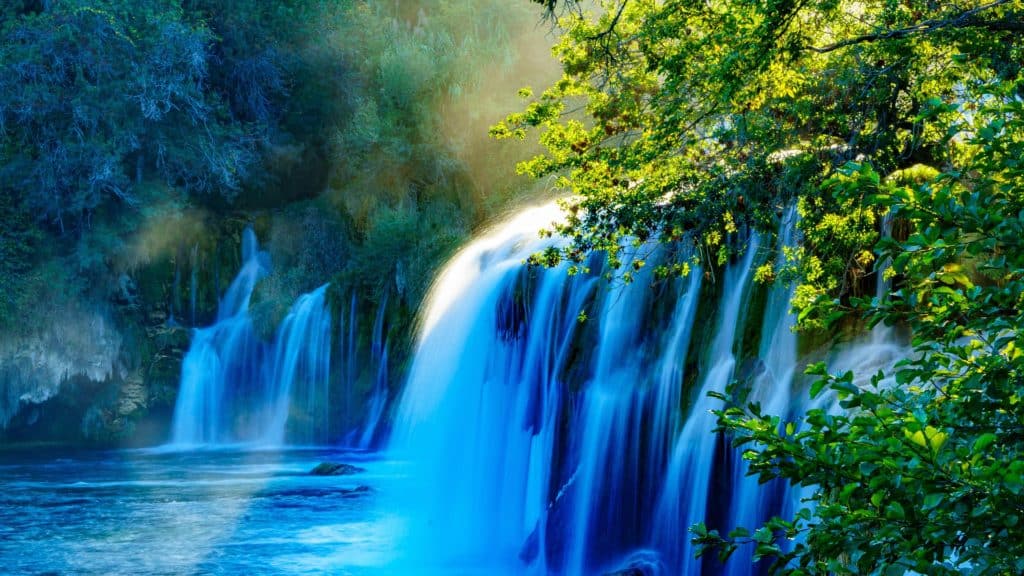 This pure emerald beauty has deserved to be placed on the UNESCO World Heritage List since 1979, as the oldest Croatian National Park (proclaimed in 1949). Today, 60 years after its establishment, Plitvice Park continues to provide inspiration for visitors becoming nowadays one of Croatia's biggest attractions. Thousands of people from all over the world visit the Park during all year round. They come to find peace and relaxation just to experience something different as a getaway from the city.

The series of 16 bigger and a few smaller lakes, gradually lined up, separated by travertine barriers for which the period of the last ten thousand years was crucial, and which were ruled by ecological relations similar to those of today – suitable for travertine depositing and for the origin of the lakes – are the basic phenomenon of the National Park.

Enjoy the timeless beauty of an impressive 78 meters High waterfall, take a walk through green oasis or take a ride with a train or an electric boat, while breathing fresh air and discovering pure intact nature…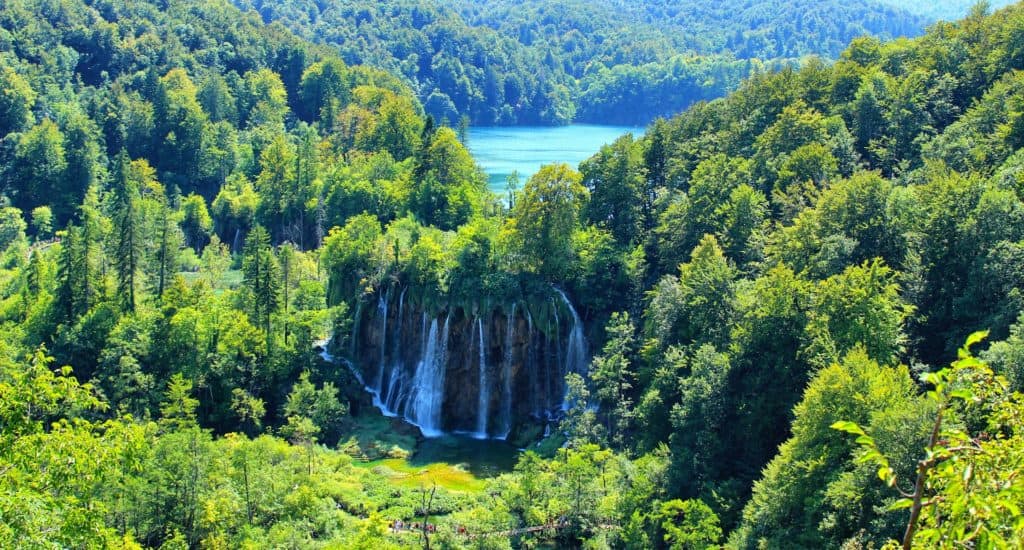 On our way to Zagreb we will stop in a little charming miller's village Rastoke, situated about 100 km from Zagreb, where the river Slunjcica over travertine rocks flows into river Korana, while through Rastoke creating many small lakes, rapids and waterfalls.

Rastoke is often called the lobby of Plitvice Lakes and therefore is often called small Plitvice lakes. In Rastoke we will see the old water mills, traditional wooden houses and lovely nature. River Slunjcica is abundant with wild trout which you can try in the local restaurants, freshly caught and prepared in many different ways.

We are coming to Zagreb in the evening.

Please note: Prices are not fixed, they are flexible depending on a season period and hotel rates. Therefore we suggest you to send us a request so we could make for you a final offer. The travel arrangement can always be customized to your specific preferences. For more details, please send your request to info@crostory.com