On this amazing 7 days tour we will introduce to you some of the most beautiful places in Croatia and Slovenia. Take a ride and enjoy…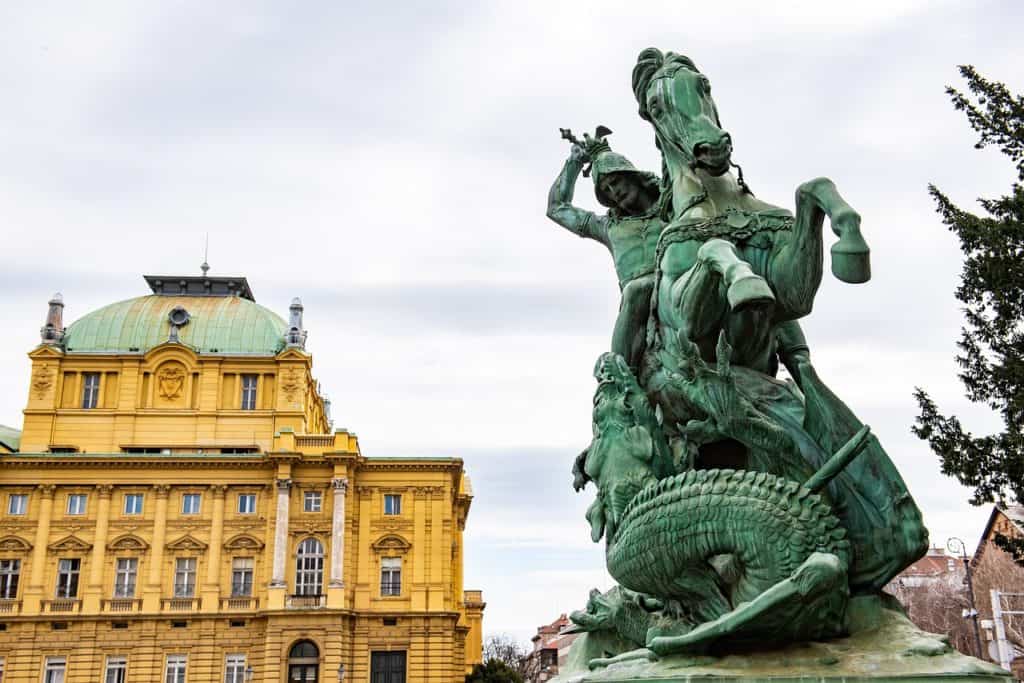 Zagreb, capital of Croatia, its cultural and economical center, filled with rich history, vibrant streets and friendly people; Samobor, picturesque and romantic little city near Zagreb; magnificent Plitvice Lakes, oldest Croatian national park under UNESCO protection; Queen of the Adriatic – Opatija with its glory and exceptional architecture, villas and parks; legendary medieval cities in hinterland of Istria – Hum and Motovun; Rovinj, beautiful Istrian coastal town, declared as one of 10 most romantic cities in Europe… Superb gastronomic offer, famous Istrian wines, truffles, sea-food… You don't have to think about it too much. You are invited to experience all that.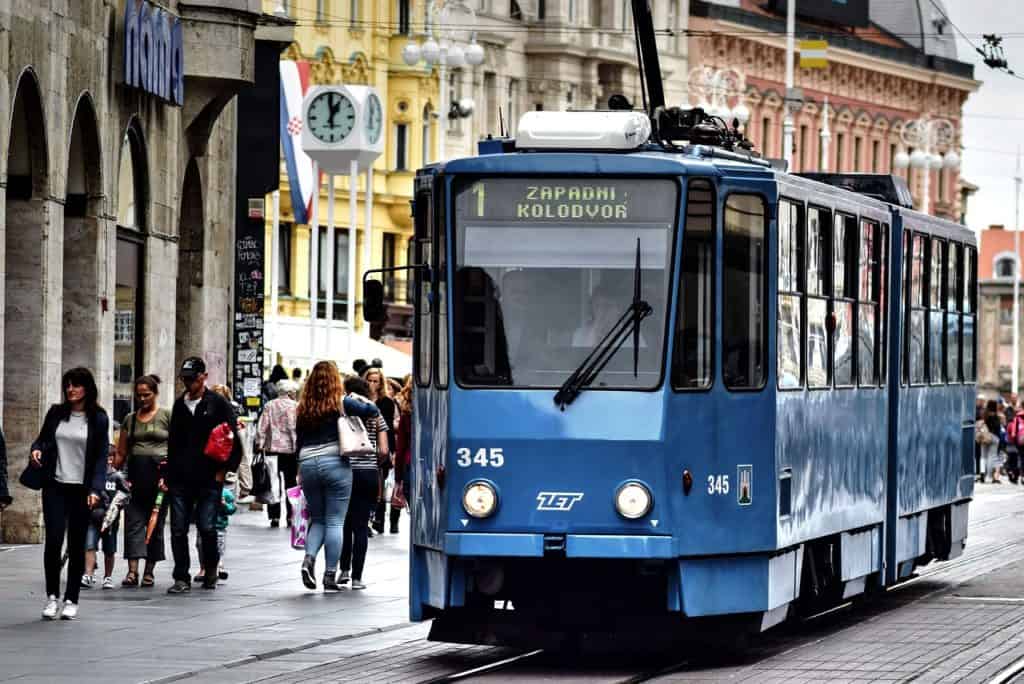 Slovenia, small modern European country with so many attractions and natural beauties. First we will visit the most famous cave in Europe – Postojna cave; after exploring underground life of the Cave, we will see completely different face of nature – fairy tale lake Bled surrounded with highest peaks of Alps; At the end of our journey, you will meet Ljubljana, capital of Slovenia, city of culture, festivals, with charming center and many bridges across the river Ljubljanica.
Duration: 7 days / 6 nights
Day 1 – arrival to ZAGREB

On your first day of this great tour, you will meet Zagreb, capital of Croatia and its biggest city. We will wait for you at the airport and transfer you to the hotel, located in the city center, where you will check in. After check in we will take you for a walk through the city center, so you can discover your first experience with this exceptional old city; Zagreb – two cities in one city; two different faces in one face. Majestic Upper town, which is intimate, cozy and distinctly medieval in ambience and the Lower town, full of huge squares, wide boulevards and Secession architecture. You will see central square of Josip Jelacic, Zagreb Cathedral, the most beautiful market at the open – Dolac, Stone Gate and many other attractions.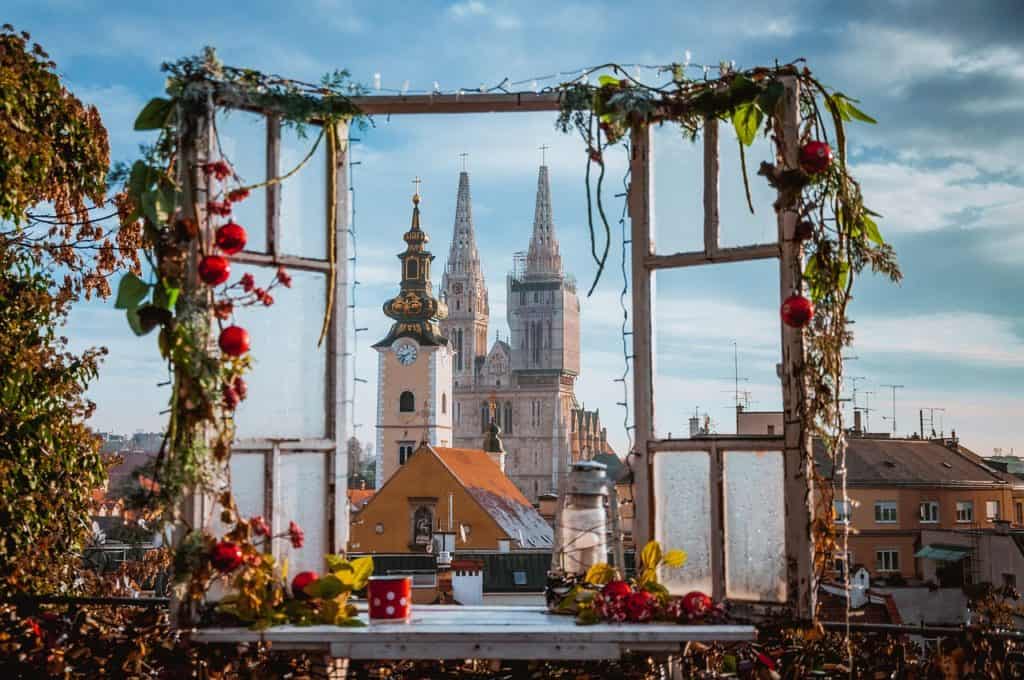 We'll take a ride with the shortest funicular in the world (only 66 meters) to the Upper town and enjoy amazing view on Zagreb roof tops. We'll take you through the beautiful Lenuzzi horseshoe or so called Green horseshoe, a complex of 7 parks and squares with fountains, in the center of the town. In the evening, we are inviting you to be our guests at a Welcome dinner in one of Zagreb restaurants where you will taste local delicacies.

Overnight in Zagreb, 4 or 5* hotel in the city center

Day 2 – ZAGREB – SAMOBOR – ZAGREB

After breakfast we will show you some more attractions of Zagreb and one of them is one of top 5 highlights to be visited in Zagreb – Mirogoj cemetery. Situated on the slopes of the Medvednica Mountain, it is one of the most beautiful cemeteries in Europe. The well-known architect Herman Bollé designed the shape of the cemetery, applying a monumental composition of arcades, pavilions and domes, intermingled with rich vegetation, and adding a gallery of sculptures by Croatian sculptors. Mirogoj is not only a burial place but also a beautiful park and open art gallery.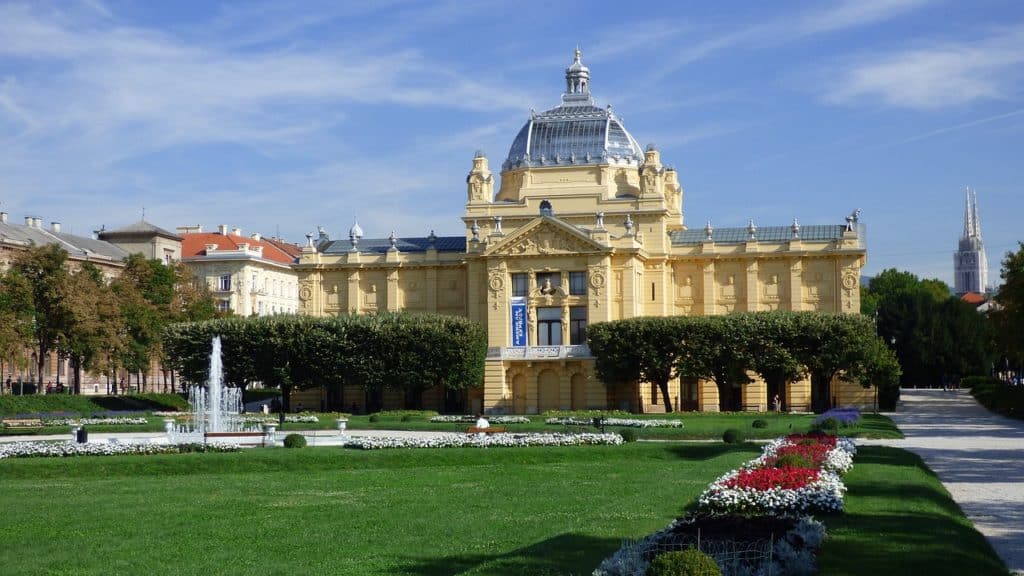 In the afternoon we are taking to see one of the most picturesque and romantic little cities in the area – sweet Samobor. Nick-name "sweet" Samobor didn't deserve only by its gorgeous parks, streets and squares, but also by the most famous cake, traditionally prepared for many generations – Samobor custard pastries. Beside its prominent tourist and excursion characteristics, from ancient times this town is renowned for its excellent artisans and craftsmen. Here you'll find products of traditional crafts that are extinct elsewhere, the hand-made products which will become your precious Samobor souvenirs. The Samobor crystal, hand-cut, has spread the name of Samobor throughout the world.

You will also taste traditionally prepared Bermet and Samobor Mustard. Bermet is a red aromatic wine made from selected sorts of grapes, wormwood and southern fruit. Samobor Mustard is a savory sauce which tastes like mustard. These products represent an identity and the Samobor people take pride in it being an unavoidable part of the Samobor gastronomic offer. We are coming back to Zagreb in late afternoon.

Overnight in Zagreb, 4 or 5* hotel in the city center

Day 3 – ZAGREB – RASTOKE – PLITVICE LAKES – OPATIJA

On a third day of our tour we are leaving Zagreb and heading to Plitvice Lakes. But before facing this miracle of nature, we will stop in a little charming miller's village Rastoke, situated about 100 km from Zagreb, where the river Slunjcica over travertine rocks flows into river Korana, while through Rastoke creating many small lakes, rapids and waterfalls.

Rastoke is often called the lobby of Plitvice Lakes and therefore is often called small Plitvice lakes. In Rastoke we will see the old water mills, traditional wooden houses and lovely nature. River Slunjcica is abundant with wild trout which you can try in the local restaurants, freshly caught and prepared in many different ways. Village Rastoke is true hidden paradise and a great overture to the majestic Plitvice Lakes. Plitvice Lakes are a world pearl of incalculable value. Its specific beauty is a sanctuary for nature lovers and an inspiration for artists, whereas the uniqueness and richness of its nature is an occupation of scientists.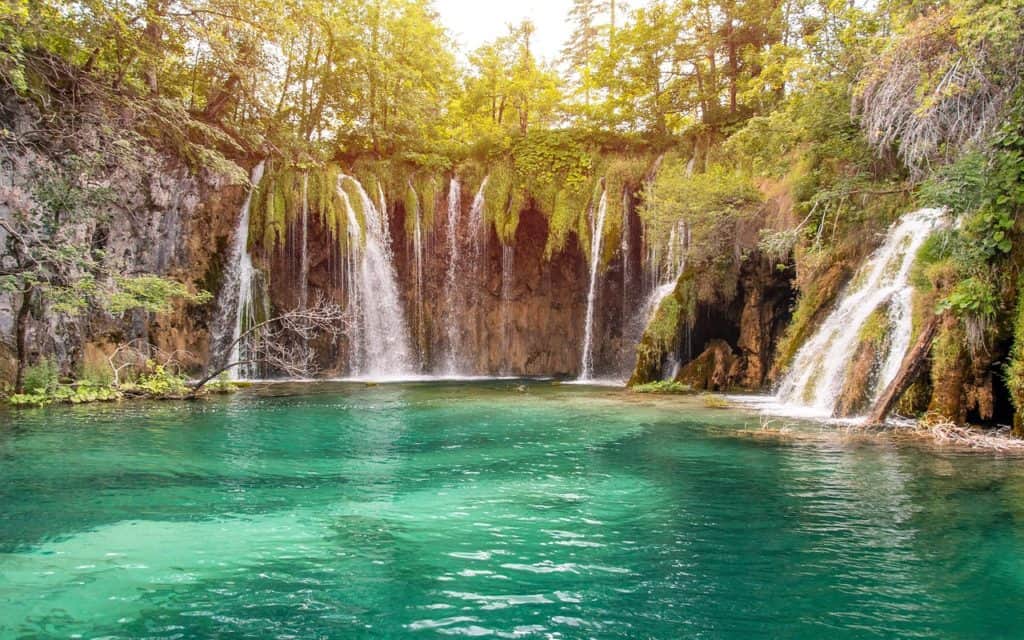 This pure emerald beauty has deserved to be placed on the UNESCO World Heritage List since 1979, as the oldest Croatian National Park (proclaimed in 1949). Today, 60 years after its establishment, Plitvice Park continues to provide inspiration for visitors becoming nowadays one of Croatia's biggest attractions. Thousands of people from all over the world visit the Park during all year round. They come to find peace and relaxation just to experience something different as a getaway from the city. The series of 16 bigger and a few smaller lakes, gradually lined up, separated by travertine barriers for which the period of the last ten thousand years was crucial, and which were ruled by ecological relations similar to those of today – suitable for travertine depositing and for the origin of the lakes – are the basic phenomenon of the National Park. Enjoy the timeless beauty of an impressive 78 meters High waterfall, take a walk through green oasis or take a ride with a train or an electric boat, while breathing fresh air and discovering pure intact nature…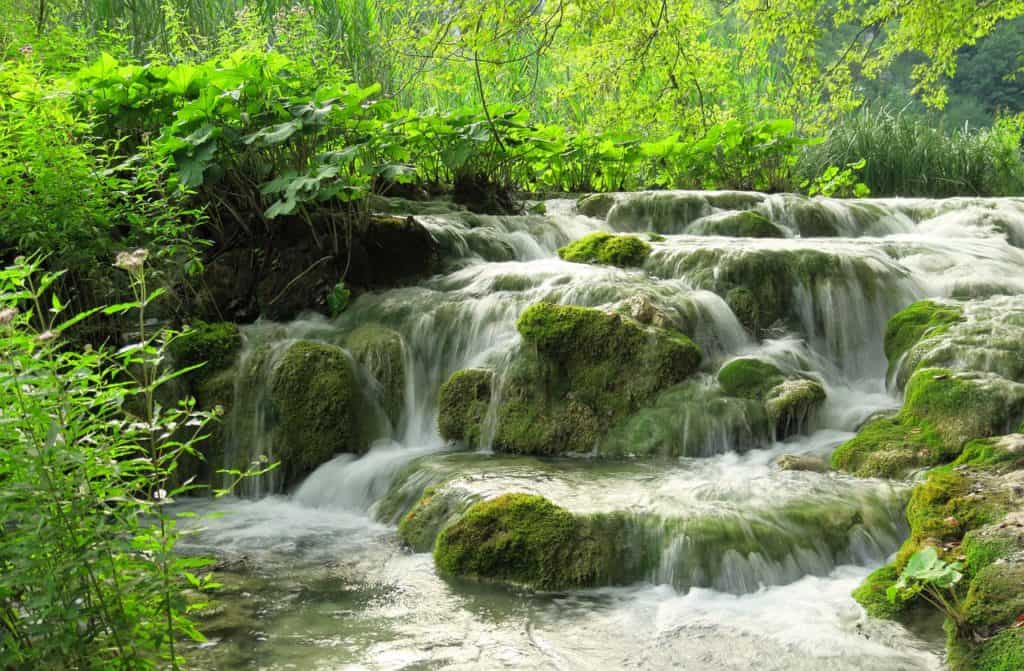 Later we are going to meet for the first time magnificent Adriatic coast and tourism champion, Queen of the Adriatic – city Opatija. Opatija, like a beautiful lady, enjoys her riches and fullness of life. Opatija's villas and hotels of exceptional architectural value, surrounded by the evergreen mountain Učka, healing sea and beautifully arranged parks, have perfectly combined the modern spirit and the benefits of a top tourist offer. Because of its unique climate and temperature, Opatija is attractive not only in the hot summer months when offering refreshment, but in the winter as well, with its mild and warm temperatures because of which it was a popular resort and sanatorium of the Austrian aristocracy. Opatija is a place rich in cultural and entertainment events, unique culinary delicacies and, in recent years, in superb wellness and beauty treatments. Opatija is absolutely the ideal destination for a totally relaxing holiday. Each visitor of the beautiful Opatija lives with its timeless beauty, carrying it with himself wherever he goes.

Overnight in Opatija, design 4* hotel in the city center

Day 4 – OPATIJA – HUM – MOTOVUN – ROVINJ

After breakfast we are leaving coast, but just for a moment. We are going to the hinterland of Istria, exceptional green world, full of old medieval little towns built on hill tops. First we will visit Hum, situated in the heart of Istria, in the township of Buzet. This picturesque settlement is located at 339 m above sea level. Today, Hum numbers only some 15 inhabitants and bears the popular name "the smallest city in the world", according to the Guiness Book of Records. Today, Hum is a city-monument, one of the rare examples of the urban development within the city walls.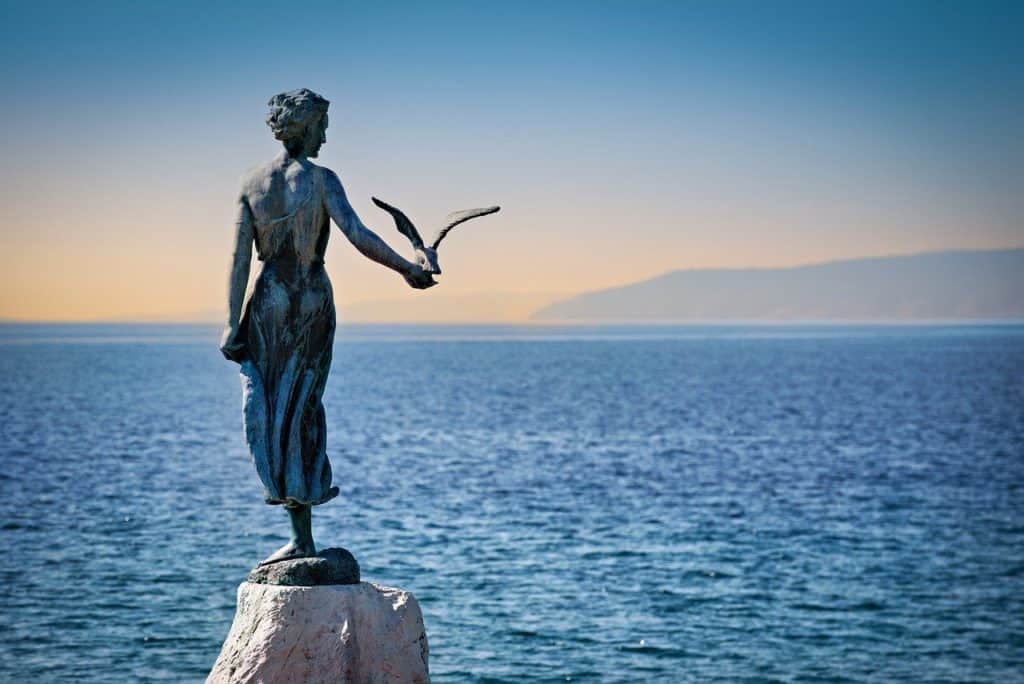 Apart from being famous for being the smallest city in the world, recently it became popular for "biska", brandy spiced with mistletoe and made according to the old recipe originating from Hum, which we will surely try. Every year at the end of October, the Grappa festival takes place here, presenting brandy producers from all over Istria.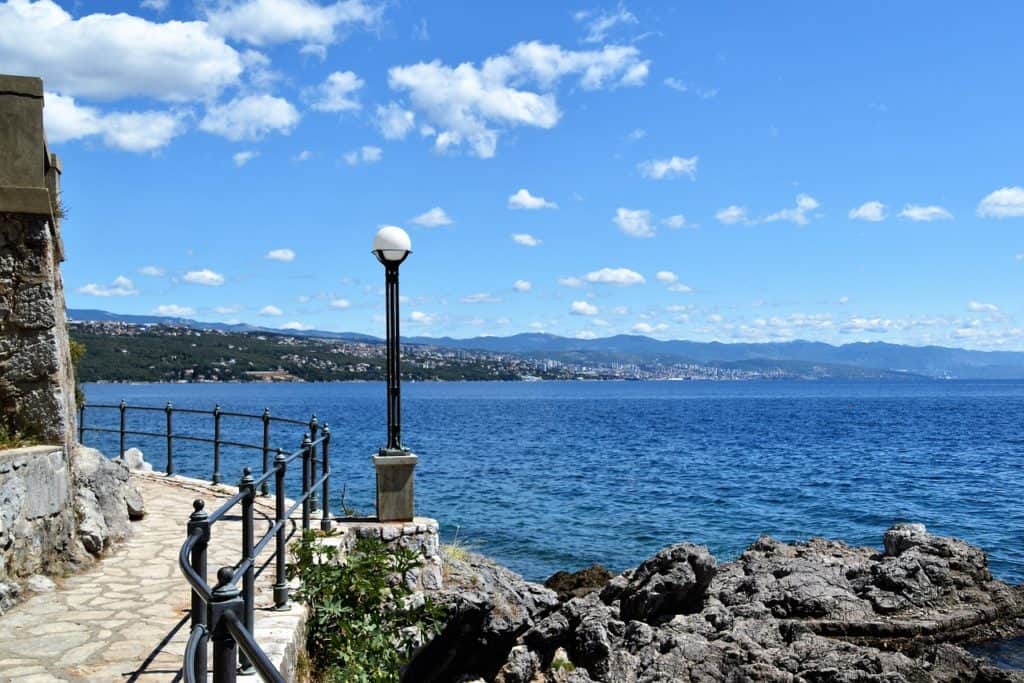 Another exciting destination is Motovun, according to the legend, city built by giants. The hilltop town Motovun, with its elegant system of towers, walls, gates and squares, represents a strong example of Venetian colonial architecture. Perched on a hill about 227 meters above sea level, Motovun is the most attractive town in the Istrian interior. Take a walk around the town walls of Motovun: The sweeping view takes in the vineyards that produce Motovun's fine Teran and Malvasija wines and the forests that harbor Istria's prized white and black truffles. We will have lunch in one of Motovun taverns and try local delicacies and of course, go to unavoidable wine-tasting.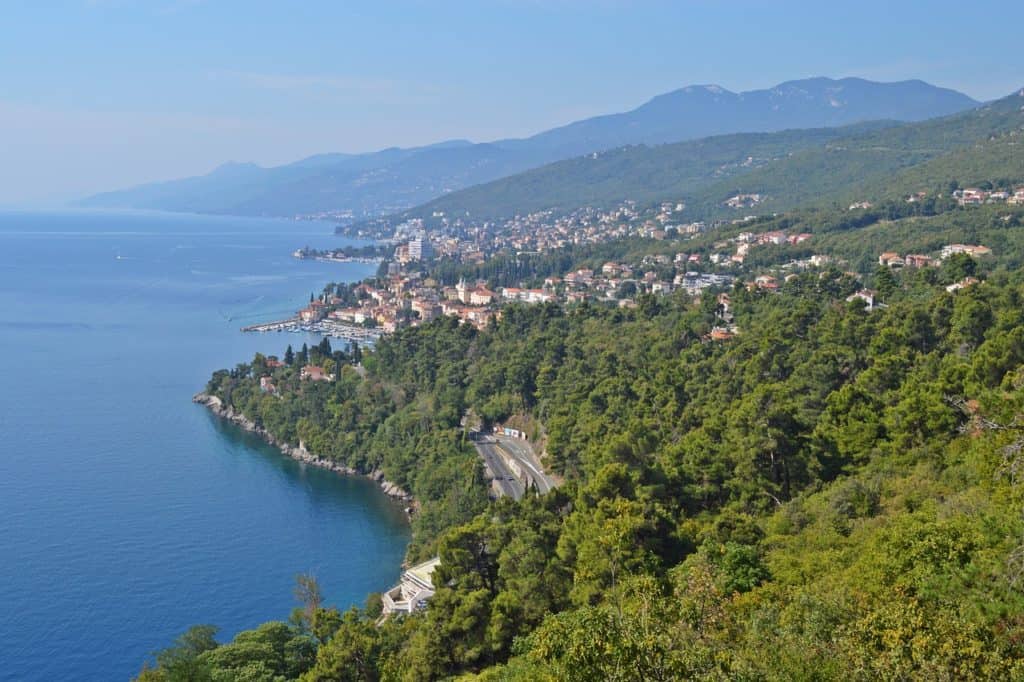 After enjoying Istrian authentic kitchen, we are again going back to the coast, stunning city Rovinj, proclaimed as one of 10 most romantic cities in Europe. And it truly is… On the seaside, the town is protected by a high rocky shore and house walls built on cliffs, while the mainland side is protected by solid walls. The town is dominated by the baroque St. Euphemia's Church, its 60-meter tower providing a view of grey and red rooftops and chimneys, streets and squares, the port and pier with ships and boats, and the marina harboring yachts.

This unique old town core, the 67-kilometer shoreline, 2,289 ha of protected green surfaces and improved park forests, 16 islands, islets and reefs, make this town unique. Built upon a rich fishermen's tradition, it has become distinctive for its unique boat called batana and its songs bitinada. Its beauty was particularly appreciated by artists who have painted the most beautiful motifs here and exhibited them on Grisia, the street of artists. This is place providing endless options – walks in wonderful nature, sport and recreation activities, sailing, diving, climbing, biking, discovering hidden beauties, cultural antiques, archeological sites and culinary specialties, all combined with accommodation in high-quality hotels, tourist resorts and camps providing numerous possibilities for a pleasant holiday, wellness delights, business conferences and sporting activities. Romantic and mysterious, yet full of options for an unforgettable time, Rovinj has become and will remain a town you want to revisit.

Overnight in Rovinj, boutique 4* villa or 5* hotel

Day 5 – ROVINJ – POSTOJNA CAVE – LAKE BLED

On our fifth day we are leaving Croatia and heading to the north, neighboring country Slovenia. First we will stop in a little town Postojna, world-known by its Postojna cave.

Postojna Cave is the best-known cave in the world. It is also the greatest tourist attraction in Slovenia and one of the world's largest karst monuments. For 140 years, the Postojna Cave, as the only cave in the world, offers a unique and adventurous ride with a special train, which will take you into the cave, under spectacular underground arches, which are embellished with chandelier look-alike stalactites, through a beautiful subterranean world full of playful limestone sculptures. 21 km of passages, galleries and magnificent halls offer a unique experience of the underground world. The Postojna cave is definitely one of the most diverse cave systems in the world. Apart from human fish which lives here, 99 other animal species live here permanently and 150 occasionally. The World Famous Postojna Cave is simply inspiring, you will see that.

After exploring underground world, we are going to see completely different face of nature – beautiful Lake Bled. With immense natural beauty, Bled, together with its surroundings, ranks among the most beautiful alpine resorts, renowned for its mild, healing climate and thermal lake water. The beauty of the mountains reflected on the lake, the sun, the serenity and the fresh air arouse pleasant feelings in visitors throughout the year, guaranteeing an ideal base or a relaxing break or an active holiday. Bled attracts businessmen, artists, athletes, explorers, sport enthusiasts, the old and the young, from all over the world, enchanting them to return again and again. We will take a ride with a traditional Slovenian boat called "pletna", after we will visit a cliff-top castle, perched high above the water and enjoy fantastic view to the surroundings.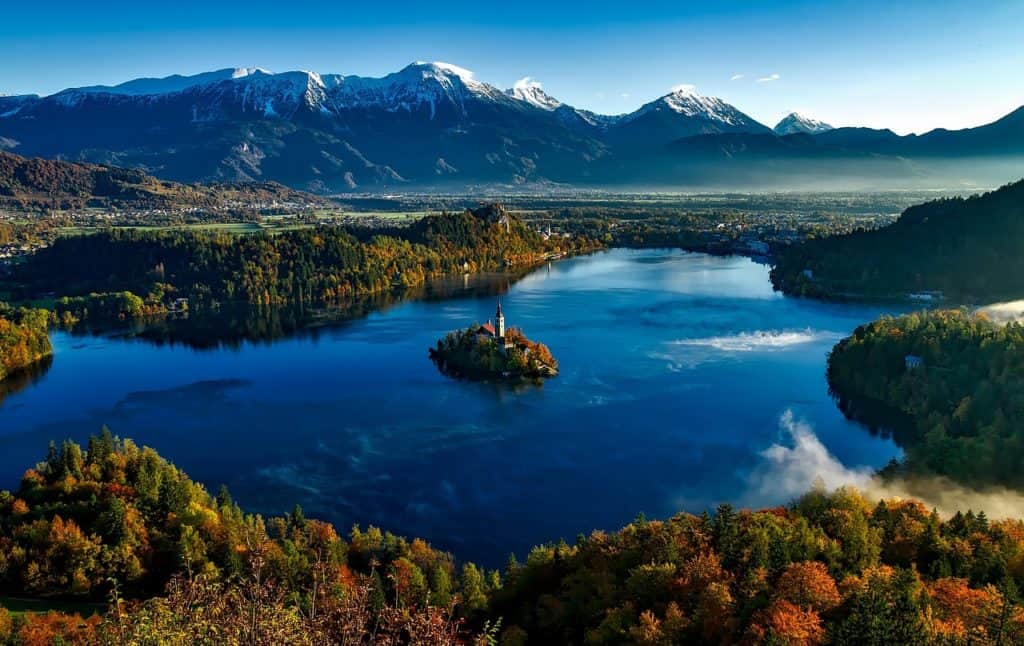 Overnight on Lake Bled, 4* hotel

Day 6 – LAKE BLED – LJUBLJANA

We will spend some more time in the morning enjoying the lake and after we are going to see capital of Slovenia – Ljubljana. Ljubljana is a small city and perfect for exploring. Very soon you might feel like exploring its surroundings. We would take you to experience amazing park Tivoli in the city center, while you will see the Ljubljanica River flowing through the center of town, past Baroque buildings and under the ramparts of the ancient castle on the hill. The new city and modern-day commercial core lies to the west of the river, while the old city and the castle are located on the east side of the river. Many bridges cross the river, the most famous of which is Tromostovje (Triple Bridge), designed by famous architect Jože Plečnik. Baroque and art-nouveau have marked this exceptional city, together with new, modern architectural styles. Main attraction of the city is and Old town, built on a hill as a fortress, from which you will see Ljubljana and its magnificent surroundings.

As a Ljubljana trade-mark, the Dragon Bridge is one of the most well known sights of the city. Four green dragons, two on each side, stand proudly to guard the bridge and the city itself. Though ladies beware….the dragon is said to wave its tail, when the bridge is crossed by a virgin!

Ljubljana is perfect destination to all in during whole year – in the summer, its center hosts a number of city sponsored events, from children workshops and public playgrounds on the streets that get closed for traffic for the occasion, to Trnfest's off-beat street performances and musical events of all genres. In autumn it shows its academic face as it fills again by students of the state's largest university to whom the city owes much of its youthful character. Cold December days are warmed by thousand of lights, the new year's decoration conceived by local artists, and by food and drinks sold from street stands on the banks of Ljubljanica River. Enjoy Ljubljana!

Overnight in Ljubljana in 4* or 5* hotel in the city center

Day 7 – departure from LJUBLJANA

Our amazing journey throughout Croatia and Slovenia has come to the end. We will drive you to Ljubljana Airport to catch your returning flight. We wish you a safe journey home, together with your memories collected in these small, but so diverse countries. Till some next time, CroStory team says good-bye…

Please note: Prices are not fixed, they are flexible depending on a season period and hotel rates. Therefore we suggest you to send us a request so we could make for you a final offer. The travel arrangement can always be customized to your specific preferences. For more details, please send your request to info@crostory.com